HEATSINK
2.9-SLOT DESIGN
The heat spreader draws heat up into heatpipes that carry it through a fin stack that fills most of the card's large, 2.9-slot footprint.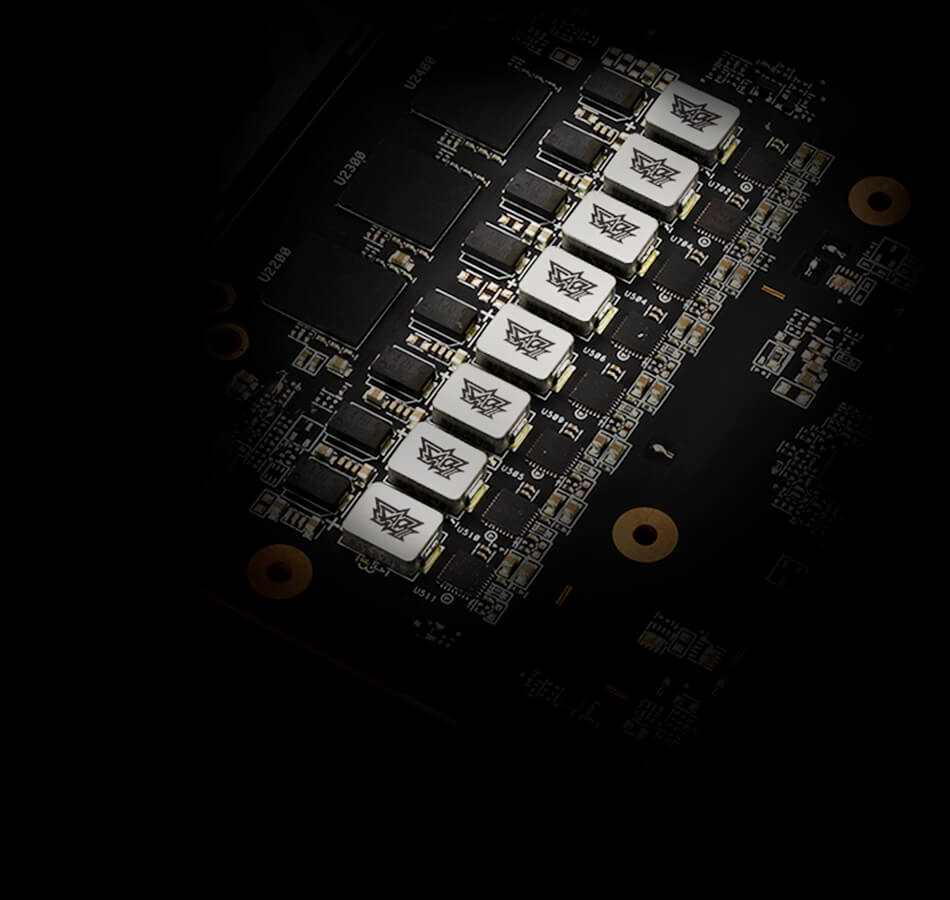 PCB
PREMIUM COMPONENTS
Top-shelf capacitors, chokes, and MOSFETs are selected to effortlessly deliver hundreds of watts at a millisecond's notice. The Super Alloy Power II parts are soldered to the PCB using our advanced Auto-Extreme automated manufacturing process. Precise joints and the elimination of human error ensures each graphics card meets our rigorous specifications.
PCB
FANCONNECT II
The rear of the ROG Strix graphics card sports two PWM FanConnect headers that provide additional DIY flexibility. Chassis fans can be directly attached to the GPU and tuned with a curve that is based on CPU and GPU temperatures, providing extra intake or exhaust for demanding 3D tasks.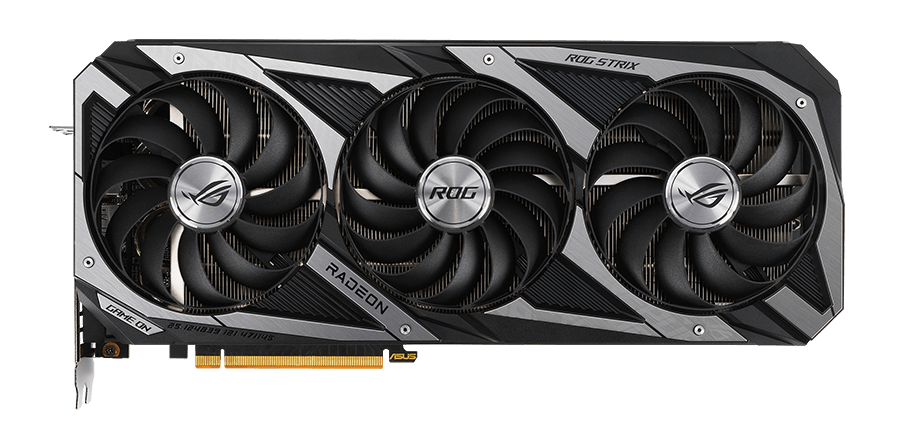 DESIGN
FIERCE SHROUD
A striking shroud with metal accents mirrors the design aesthetic of ROG and ROG Strix motherboards. Mixing surface textures and materials make a statement when vertically mounted and lit by chassis LEDs. For those who prefer a sleeker, more subtle look, the greyscale colorway allows it to seamlessly blend into the build.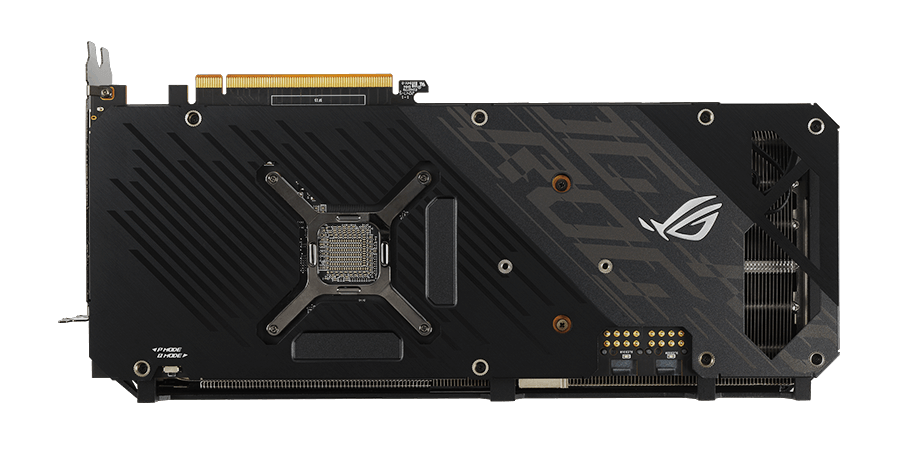 DESIGN
ARMORED UNDERSIDE
The underside of the card reveals further improvements. Most of the rear is swathed in a protective metal backplate that prominently features a wide vent. The vent allows hot air to escape towards chassis exhaust fans instead of being recycled back into the GPU cooler. A GPU bracket provides extra stability to the critical connection between die and heat spreader. Stainless steel is used for the I/O bracket to protect ports and provide a more secure mount. And a conveniently placed Dual Bios switch allows customization of the card's default performance profile without software.

DESIGN
GNARLY GRILL
An impressive addressable RGB element on the front of the card can be customized with Armoury Crate to create a uniform look along with other ROG components. To fulfill the power demands of the Radeon RX 6700 XT, two 8-pin power connectors are present, along with an onboard circuit that monitors PSU rail voltage. The circuit is fast enough to catch any transients that result in the rail voltage dropping too low. If that happens, a red LED will light up to indicate a power supply issue. The ROG Strix's reinforced metal frame is also visible here, adding a literal layer of durability.
SOFTWARE
GPU TWEAK II
The ASUS GPU Tweak II utility takes graphics card tuning to the next level. It allows you to tweak critical parameters including GPU core clocks, memory frequency, and voltage settings, with the option to monitor everything in real-time through a customizable on-screen display. Advanced fan control is also included along with many more features to help you get the most out of your graphics card.